Best Industrial Sewing Machines for Jeans Manufacturers 2019
Anyone from the garment industry would know that Brother's industrial sewing machines are the best for manufacturing heavy duty materials such as Jeans. Even one of the top automation machine manufacturers like Sip Italy, uses Brother sewing machine head in their automated machines. So, what is so good about Brother machines for Jeans manufacturing?
In this article, we seek to provide more details on the factors you should consider before getting a machine for Jeans manufacturing. Stay till the end for our recommended machines, and you will find out why Brother's machines are so highly sought after!
The main factors you should consider before getting a machine for jeans manufacturing
1. Stability in sewing through thick materials
Stability

in handling
The sewing machine has to be powerful and stable enough to deliver a greater needle penetration to sew through thick denim materials at high speed. Some sewing machines offer a unique needle vibration function, which effectively reduces the impact when sewing through thick fabrics.
Less needle breakage
Needle breakages greatly decreases productivity as it stops the sewing process midway and operator must look for the broken needle in the fabric. As needle contamination is a serious quality defect, this could negatively impact the reputation of the sewing factory too. It is thus important to look for machines that can impactfully decrease needle breakages.
Brother's machines with DigiFlex Feed functions are a good example of machines that are well positioned to prevent needle breakage with its unique features:
Stepping motor control: Compared with conventional mechanical control, having a stepping motor control by DigiFlex Feed can increase the response time of reverse sewing and reduce needle breakage.
Optimisation of fabric feed trimming: Fabric can be fed at an appropriate timing with DigiFlex technology so that needle will not break even while sewing through thick materials.
Less thread breakage
While sewing at high speeds for belt loops and plackets, thread breakages often occur due to the needle heating up. This results in time wasted as the operator has to stop the sewing process to replace the broken thread. It also means that operator cannot sew at too high speeds above 2,000 stitches/minute, as the heat will lead to thread breakages. It is important to look for machines with needle cooling technologies such as Brother's KE-430HX that can allow you to sew at speeds of 3,300 stitches/minute without thread breakages. Currently only Brother has such superior needle cooling technologies in their machines.
2. Good Stitch Quality
With expensive materials like denim, it is important to achieve good stitch quality to ensure high quality products are manufactured. Refer to this article xxx to find out what are the key factors of an industrial sewing machine that gives you a good stitch quality.
3. User-friendly
Having a user-friendly sewing machine can help to improve your operators' quality of working and productivity. Look out for sewing machines with user-friendly LCD touch panel display for operators to operate intuitively without much complications. Some even include 7-inch high resolution colour display to increase visibility and number of functions shown in one display.
In addition, having a large sewing area would be helpful for sewing on large surface areas like Jeans. Having said that, most manufacturers would look out for a large sewing area with a compact footprint. Reason being, a small footprint allows for additional space in a factory line for better space utilisation.
4. Brands that are widely used by Jeans manufacturers
Who doesn't want recommendations that have been tried and tested in the market? Levi's, one of the top brands in Jeans manufacturing, has been using Brother's industrial sewing machines in 50% of their factories for more than 20 years.
Comparison of various sewing machines required in Jeans manufacturing
As there are many different types of industrial sewing machines required for Jeans production, we have categorized our comparison based on the machines that are required to manufacture different parts of the Jeans.
Eyelet buttonhole sewing machines are one of the most complicated industrial sewing machines. Maintenance of such machines are extremely difficult due to the high number of parts in each machine.
Of the 3 brands, Brother's RH-9820 has the least complicated structure. It is easy to adjust, yet extremely durable.
Clogging, skip stitching, and thread loosens are the major problems at cross-over seams on jeans. Many people in the sewing industry evaluate Brother's twin needle machine to be the best for cross-over seams. This is due to their vibration function which delivers greater needle penetration, and their needle bar clutch mechanism that is highly accurate, allowing them to realize beautiful seams. At the same time, Brother's twin machines are also the most durable.
One new technology that we are excited about is Brother's newest unique safety mechanism! If the operator accidentally touches the stop lever during high speed sewing, Brother's safety mechanism will prevent the needle from flying out. As you know, the flying out of the needle during high speed sewing causes a significant threat to the operator's safety.
Again, Brother's single needle is best for Jeans due to
Their

DigiFlex feed technology

which reduces needle breakage and clogging at cross-over seam reduction
Their thickness detection sensor which reduces clogging at cross-over seam
The

design stitch function

which can decorate the pockets and create ripped jeans with ease

Vibration function

which achieves greater needle penetration into the thick fabric

Longest max stitch length

at 7mm (compared to other brands which have max stitch length of 5mm)
Brother's Bar Tacking machine is the best as it is automated, easily adjustable, reduces thread trimming and breakage. Its needle cooler function is also a great enhancement to the sewing quality. Refer to the article on Bar Tacking Machines for more details.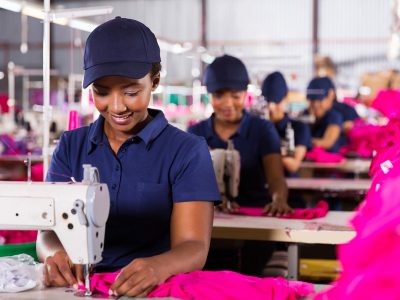 Lockstitch/single needle sewing machines are arguably the most used type …