Best Single Needle Sewing Machine 2019
Lockstitch/single needle sewing machines are arguably the most used type of sewing machines. As lockstitch is the most basic stitch in locking the fabric in most of the clothing we wear, single needle sewing machines are very common in industrial sewing environment. With so many products in the market, it is hard to identify the most suitable single needle machine for you. We explored various machines and summarised these 4 key factors that you should also consider while purchasing a single needle sewing machine.
4 key factors 
1. Stable Machine Action
Most single needle machines need to be constantly sewing at high speeds as they face high sewing volume. However, high speed can cause thread to break easier, leading to a longer cycle time instead. Furthermore, operator often sews at a speed faster than the sewing machine can handle, resulting in them losing the pattern shape. To prevent such defect products, it is important to have a sewing machine with a
stable feed mechanism
that can be kept rigid and reliable even at high speed, allowing operators to achieve both productivity and quality.Digital feed mechanism is the latest technology in the market that gives you a stable machine action. It greatly influences the stitch quality by adjusting the feed according to the sewing material and reduces puckering, improves thread tightening, prevents needle breakages, etc. A sewing operator would definitely be able to feel the smooth feeding and its ease of use, greatly improving their productivity and stitch quality.Currently in the market, only Brother and Juki machines are equipped with this latest digital feed mechanism. The most important aspect to look out for in this digital feed mechanism is how well controlled the horizontal feed is. In this aspect, Brother's DigiFlex Feed mechanism is superior.
2. Short Trim and Anti Bird Nest
At one glance, a shorter trim helps to reduce thread waste. However, we all know that this cost is insignificant. The more crucial implication of a short thread is that it reflects on the sewing quality and affects productivity. If the remaining thread is long, it can lead to the formation of bird nest. Instead of the usual one side knife, look for machines with
dual blade trimmer
. This ensures that it will always cut just right below the needle, hence achieving the shortest remaining thread and prevent the formation of bird nests.
3. User Friendliness – Ease of use
In order to reduce training time required and increase efficiency of the operator, industrial sewing machines should be easy to operate. Here are some features that can greatly increase the user friendliness of industrial sewing machines.
Ease of settings
Setting the feeding motion can be quite complicated especially if it's done manually. The recent development of Brother's S7250A and S-7300A as well as Juki's DDL-9000C allows for
digital and numeric setting of feeding pitch
to ensure accuracy and consistency. This makes it much more convenient to operate the industrial sewing machines.
LED Illumination
A small little LED light near the needle makes a huge difference to the sewing quality. As some factories might not be very well-lighted, the LED light can increase the illumination and ease the operators' stress and frustration.
4. IoT
As most factories own multiple sewing machines, having an IoT function helps to connect all machines to a network system seamlessly. This will enable you to analyse, manage processes and speed up productivity improvement and maintenance work. Look for brands which allow your machines to be
connected on a network system.
Refer to this article
Increase Revenue & Productivity for your Garment Factory with Technology
 for more information!
Comparison Table
Here, we compare various sewing machine brands and score them against the factors that we have mentioned above, to give you the list of the best single needle machines in 2019.
Max Sewing speed (stitches/min)
Needle Breakage Prevention
Max Sewing speed (stitches/min)
Needle Breakage Prevention
Max Sewing speed (stitches/min)
Needle Breakage Prevention
Max Sewing speed (stitches/min)
Needle Breakage Prevention
Max Sewing speed (stitches/min)
Needle Breakage Prevention
Max Sewing speed (stitches/min)
Needle Breakage Prevention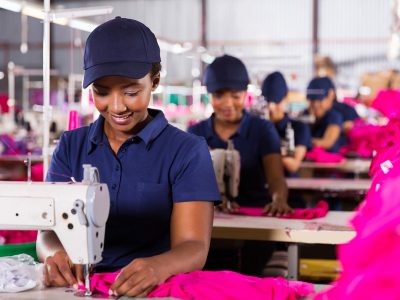 Lockstitch/single needle sewing machines are arguably the most used type …