Increase Revenue and Productivity for your Garment Factory with Technology!
Stressed about not meeting your delivery dates? Frustrated by your unproductive operators? Unhappy about losing sales and orders because your factory does not have enough capacity to produce more?It is every owner's and production manager's dream to ensure that their garment factory is running at its fullest capacity and productivity. However, there are many gaps in productivity in a garment factory that is challenging for a manger to keep track manually. For example:
-Difficulty in tracking production output in real time
Usually production outputs are tracked against planned targets at the end of the day. When production quantity is lesser than planned targets, it is difficult to identify where the problem is. Without understanding the root of the problem, it is difficult to solve it in order to improve productivity and production.
-Difficulty in identifying bottlenecks
With so many lines and operators to monitor, it is sometimes difficult to identify bottlenecks. Sometimes, you may be able to identify the problematic line, however, it will still take time to identify the bottlenecks within the line, especially when there are more than one bottlenecks. The longer it takes to identify bottlenecks, the longer the factory is not operating at full capacity.
-Difficulty in measuring operator's actual cycle time, and improving their productivity
In order to accurately develop planned targets without technology, production managers have to manually take an operator's cycle time. Of course, under supervision, operators will perform at the best capacity and give you the best cycle time. However, during actual work hours, operators may become less productive, and take long breaks, thus increasing their cycle time. This results in inaccurate production targets. In addition, it is difficult to identify unproductive operators in a large factory manually.
-Difficulty in identifying  in operating machines
During a technical difficulty, the maintenance team must manually check for the problem with the under operating machine, which takes time. Furthermore, in a large factory, if there are machines that are not operating at their fullest capacity due to machine wear and tear, it is difficult for the maintenance team to identify these problematic machines.
How can technology enable productivity improvements at your garment factory?
The problems identified earlier can easily be solved with technology. With Industry 4.0, many large garment players are exploring with investing into Manufacturing Execution Systems (MES). These MES enable production managers to plan, manage and optimise their entire production with ease, by collecting all data from sewing machines in real time. These systems can identify faults immediately and respond before failure leads to idle times and delays. Correspondingly, there is less need for reworking and wastage.However, many MES are very expensive, requiring upfront investment of US30,000 or more. Thus, we are so excited when Brother finally introduced a low cost IoT solution (only US$5,000!), that can help us with the most pressing problems facing production managers!
Our recommended solution – NEXIO
Complicated MES system requires you to connect your entire factory to the software, including your accounting (ERP) systems. Of course, with such wide coverage, MES can greatly enable productivity, but that requires a high investment and steep learning curve to learn how to how to use the machine properly.Brother's IoT solution, NEXIO can deliver significant results at low cost because it is specifically targeted at improving the sewing process. Yet, the sewing process takes up , thus, any improvements will easily bring about a large impact on overall productivity!NEXIO, allows production manager to analyse sewing machine data directly from the sewing machines that are connected to a cloud. Our favourite feature about NEXIO is that it requires no set up as long as you are currently using Brother's machines, all you have to do is to insert a flash drive into your Brother Machines and you are immediately connected to NEXIO.With NEXIO, production managers have access to real time sewing data, outputs, and defect rate of the operators and sewing machines. NEXIO has been proven to improve output by 15% in just 1 month, with no additional investments! Here are some ways that NEXIO can enable productivity:
Control production at all time with real-time data
With real time data, you can easily see if you are able to meet your planned targets. Identify bottlenecks quickly, solve machine problems and reduce your operator's idle time.
Increase operator efficiency by constant monitoring of their performance
NEXIO allows you to track the cycle time of your operators in real time. By putting operators' performances on the screens, operators can easily see what the average speed is. This has proven to improve the performance of unproductive operators because their under-performance is displayed on the screen, and it makes it easier for production managers to identify them as bottleneck and solve outstanding issues with them (e.g. faulty machines).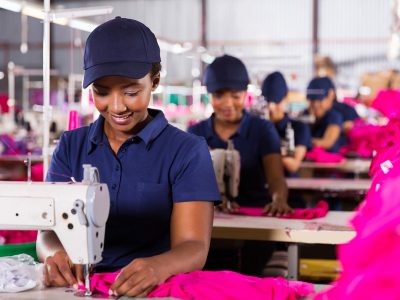 Lockstitch/single needle sewing machines are arguably the most used type …