Most Profitable Industrial Sewing Machines 2019
Expanding your sewing factory? It is easy to find low priced industrial sewing machines, however, price should not be the only qualifying factor. Low priced sewing machines often are of lower quality and require more maintenance. In fact, owners who rely on low priced industrial sewing machines often find themselves paying more in the end due to increased maintenance and parts replacements.
Here, we access the other factors you should consider to ensure that your machines can give you a good return in terms of both revenue and profits. This article will be useful to you if you are looking for lock stitch sewing machines or programmable electronic pattern sewers.
INCREASE REVENUE
Here, we assess the different factors that can bring about the greatest return in terms of revenue.
1. Increase productivity
To realise significant increase in revenue, you need an industrial sewing machine that gives you a high production output over time. These are the key factors that increases the productivity of a machine:
Less needle breakage
Needle breakages greatly decreases productivity as it stops the sewing process midway and operator must look for the broken needle in the fabric. As needle contamination is a serious quality defect, this could negatively impact the reputation of the sewing factory too. It is thus important to look for machines that can impactfully decrease needle breakages.
Brother's machines with DigiFlex Feed functions are a good example of machines that are well positioned to prevent needle breakage with its unique features:
Stepping motor control: Compared with conventional mechanical control, having a stepping motor control by DigiFlex Feed can increase the response time of reverse sewing and reduce needle breakage.
Optimisation of fabric feed trimming: Fabric can be fed at an appropriate timing with DigiFlex technology so that needle will not break even while sewing through thick materials.
Less thread breakage
While sewing at high speeds, thread breakages often occur due to the needle heating up. This results in time wasted as the operator has to stop the sewing process to replace the broken thread. It also means that operator cannot sew at too high speeds above 2,000 stitches/minute, as the heat will lead to thread breakages. It is important to look for machines with needle cooling technologies such as Brother's BAS-360H that can allow you to sew at speeds of 2,700 stitches / minute without thread breakages. Currently only Brother has such superior needle cooling technologies in their machines.
Sewing at high speed without lowering quality
At times, operator sews at a speed faster than the sewing machine can handle, resulting in them losing the pattern shape and having to restart all over again, wasting time. To reduce such time wastage, it is important to have a sewing machine with a stable feed mechanism that can be kept rigid and reliable even at high speed, allowing operators to achieve both productivity and quality.  
Automation
Time is wasted every time the operator starts on a new piece as they have to restart the machine again. Instead, get a sewing machine that automatically starts when fabric is placed onto the feed board.
2. Quality of final product
Having a machine that can produce good stich quality increases your revenue and margins as you can sell the high-quality products at a higher price per piece. Refer to this article on Stitch Quality to find out the best recommended industrial machines with good stitch quality.
3. Capability for wide range of materials
Instead of going for low cost industrial sewing machines with few specifications, you should consider purchasing industrial machines that can be used to manufacture multiple types of products. This allows you to increase your product offerings easily, gaining more revenue without incurring additional costs in the future.
4. Compact footprint size
Find industrial sewing machines that have compact footprints, enabling you to have effective utilisation of your factory floor space.
DECREASE ONGOING COSTS
Of course, having industrial sewing machines that can greatly increase your revenue does not mean anything when your costs are greatly increased too, decreasing your margins. As a good business owner, you should also look out for machines that can help you decrease your running costs in the long run! Here are some key factors to look out for.
1. Energy savings
Find energy efficient machines. For example, industrial sewing machines from Brother has 20 – 45% lesser energy consumption as compared to other brands. These energy savings translate to lower power consumption and costs.
2. Durability of machine
Having a machine that has a low malfunction rate and long lifespan will decrease your current maintenance cost and replacement cost in the long run. How do you know if your machines will be durable? Refer below for our durability ranking and look out for reviews by other factory owners.
3. Reduction in manpower
The best way to increase your margins will be to decrease the manpower required per production. Advances in the industrial sewing industry have resulted in manufacturers creating supporting software for their machines that allows you to analyse your sewing machine data and reduce the manpower you need to monitor processes. If your factory is not large enough to invest in an expensive manufacturing efficiency system (MES), there are a few low cost IoT solutions available that can help you generate higher profits! Read here for more: Increase Revenue & Productivity for your Garment Factory with Technology.
Comparison Table
Here, we compare various sewing machine brands and score them against the factors that we have mentioned above, to give you a list of the most profitable industrial sewing machines in 2019.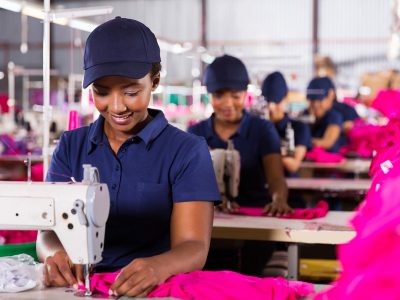 Lockstitch/single needle sewing machines are arguably the most used type …
About
Major Industrial Sewing Machine Brands
Brother
Brother is a diversified multinational corporation from Japan with over 110 years of history. With a strong foundation of leadership and product innovation, they have continuously pushed boundaries with new technological innovations. Brother was first started as a company that provides repair services and parts for sewing machines in 1908. Today, it has evolved to become the only industrial sewing machine company with their own R&D team. They are also the only industrial sewing machine company that produces all parts of the sewing machine, including the electronic circuit boards, in-house. Brother distributes its products both under its own name and under OEM agreements with other companies. As a group, Brother has a total annual turnover of over USD 8 billion.
Juki
Juki is a Japanese manufacturer of industrial sewing machines, headquartered in Tokyo. Up till 1988, the company was known as Tokyo Juki Industrial Company, Ltd. Recently, they have started to manufacture domestic sewing machines, electronics and industrial equipment too. The company has manufacturing facilities in China, Vietnam and Japan.
As a group, Juki has a total annual turnover of USD 1 billion.
Jack
Jack is established in August 27th 2003 in Taizhou, Zhejiang, China. Their main 8 product series are spreading machines, automatic cutting machine, lockstitch, overlock, interlock, special machine, automatic pocket welting machine and energy-saving motors. Jack's corporate mission is to provide the best sewing machinery with optimum cost-performance ratio for all.
As a group, Jack has total annual turnover of USD 600 million.