Which industrial sewing machine gives you the greatest productivity?
Choosing the right industrial sewing machine is highly important for a production manager in the garment industry. As a production manager, one must be fully responsible for process planning, forecasting, scheduling, and making sure that actual outputs meets planned target. It is a highly stressful role that requires the manager to be responsible for the day to day production in the garment factory.
The key factors that production managers should look at while accessing industrial sewing machines should be based on the metrics of productivity. Purchasing the right single needle machine is the key to increasing your factory's productivity due to the high volume of single needle machines in factories, and high amount of production and utilization ratio. Based on user feedback from our wide network of production managers, we have gathered the top factors to look at before making your next industrial single needle sewing machine purchase.
1. Reduction in
unproductive operations
Looking at the speed of the sewing machine is not enough. Did you know that the actual time spent on sewing in the entire sewing process is less than 50%? Thus, if you only seek to improve productivity by purchasing high speed machines, you will not make much impact on bottom line productivity.
Majority of the time is spent on unproductive operations such as setting materials, making adjustments when pattern shape is lost, removing puckering, and thread picking. Thus, it is key to find an industrial sewing machine that can these reduce unproductive factors.
Reducing adjustments during sewing
If the operator sews at a speed faster than what the sewing machine can handle, they lose the pattern shape and have to restart all over again. To reduce such time wastage, it is important to have a sewing machine with a stable feed mechanism that can be kept rigid and reliable even at high speed, allowing operators to achieve both productivity and quality.
Reduced puckering
Puckering increases sewing defects and decreases operating ratio. The top favourite for reduction in puckering as voted by production managers has been Brother's Digiflex feed technology, which helps in the smooth feeding of fabric and reduces puckering by 93%.
Thread trimming
A lot of time is still wasted by operators in thread picking after sewing. Remove the need to pick threads completely by investing in sewing machines that can deliver short remaining thread of 3.0 mm and below.
2. Reduction in needle and thread breakage
Less needle breakage
Needle breakages greatly decreases productivity as it stops the sewing process midway and operator must look for the broken needle in the fabric. As needle contamination is a serious quality defect, this could negatively impact the reputation of the sewing factory too. It is thus important to look for machines that can impactfully decrease needle breakages.
Brother's machines with DigiFlex Feed functions are a good example of machines that are well positioned to prevent needle breakage with its unique features:
Stepping motor control: Compared with conventional mechanical control, having a stepping motor control by DigiFlex Feed can increase the response time of reverse sewing and reduce needle breakage.
Optimisation of fabric feed trimming: Fabric can be fed at an appropriate timing with DigiFlex technology so that needle will not break even while sewing through thick materials.
3. Ease of use
Industrial sewing machines should be easy for the operator to use, in order to reduce the training time required and increase the efficiency of the operator. At the same time, having easy to use machines will allow the quality of the final output to be less dependent on the skill of the operator. This allows you to better guarantee the quality of your final output even with low skilled operators.
Look out for sewing machines with user-friendly LCD touch panel display for operators to operate intuitively without much complications. Some machines feature one touch settings for feeding motion, to reduce the skill level required by the operator. Some even include 7-inch high resolution colour display to increase visibility and number of functions shown in one display.
4. IoT systems
A new feature we believe will go a long way in improving overall productivity in the garment industry is IoT systems that are currently being introduced into the market by major industrial sewing machine manufacturers! For example, Brother has recently introduced NEXIO, a low cost IoT solution that allows production manager to analyse sewing machine data directly from the sewing machines that are connected to a cloud. Thanks to technology, the ways with which we can improve productivity has increased dramatically as managers get access to real time sewing data, outputs, and defect rate of the operators and sewing machines. Read here for more: Increase Revenue & Productivity for your Garment Factory with Technology
Comparison Table
Here, we compare various sewing machine brands and score them against the factors that we have mentioned above, to give you the list of the most productive sewing machines in 2019.
Needle breakage prevention
Needle breakage prevention
Needle breakage prevention
Needle breakage prevention
Needle breakage prevention
Needle breakage prevention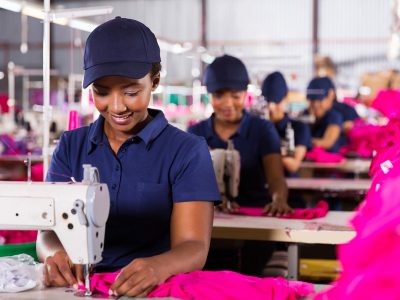 Lockstitch/single needle sewing machines are arguably the most used type …